remote indication interface
Type RIS-FS
The retrofittable circuit board is used to integrate fault indicators of the FLA3.1 product line into a remote indication system. It provides bidirectional connectivity to all functions of the indicators. The board can be equipped with whether a TTL interface, an RS232 or an RS485 interface for the connection to a remote terminal unit (RTU). Further equipment options are a relay output for notifications, a d-sub DE9 socket and an U.FL connector for external antennas.
Via the Modbus protocol or a customer-specific ASCII-based protocol all functions of the fault indicators of the FLA3.1 product line can be used remotely.
Functions provided for the FLA3.1 product line
- Remote setting of all functions, such as trip current, response delay, reset time, automatic recloser settings etc.
- Remote test and reset
- Remote read-out of line current
- Remote indication of faults. Distinct remote indications for permanent and temporary fault or transient currents.
Special functions for the fault indicators type FLA3.1V and FLA3.1VL:
- Remote indication of voltage or current status
- Datalogging of current read-outs and voltage status
- Remote indication via short transmissions for optimized power consumption
Order Data
Article no.
Type RIS-FS
| with TTL interface
42.50.11
Type RIS-FS
| with RS232 interface
42.50.14
Type RIS-FS
| with RS232 interface and d-sub socket
42.50.15
Type RIS-FS
| with RS485 interface
42.50.16
Features and Benefits
Bidirectional short range radio connection to fault indicators of the FLA3.1 product line
Retrofittable into existing remote terminal units (RTU)
Serial interfaces:
– TTL
– Or: RS232
– Or: RS485
Protocol:
– Modbus (RTU mode, slave device)
– Or customer-specified (ASCII-based)
Antenna:
– internal
– optional: U.FL connector for external antenna
Power supply:
– external 3.3V DC - 3.6V DC for TTL interface / RS485 interface
– Or external 5V DC / 8-24V DC for RS232 / RS485 interface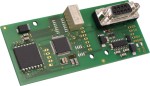 Downloads
| | | |
| --- | --- | --- |
| datasheet_RIS-FS_Rev7e | Size: 708.96 KB | |