Directional Fault indicator
Type SGI
The directional earth-fault and short-circuit indicator type SGI can detect faults and the current flow direction of faults in
– solidly earthed
– resistance earthed
– isolated
– compensated medium voltage networks.
Detection methods
The type SGI utilizes several fault detection algorithms to detect fault. It can detect faults by using following detection methods:
– current-based, absolute threshold detection methods for phase-currents and unbalanced loads
– transient detection
– residual voltage detection with a percentage threshold
– current-based di/dt algorithm
The absolute threshold detection and the transient detection also provide a directional indication of the detected fault. Furthermore, all algorithms feature a wide variety of configurable parameters which can be conveniently adjusted at the device with the help of a lighted OLED display and an rotary encoder with push-button. No external device or PC program is required for configuration and commissioning.
The device can be connected to an LRM interface of an capacitive voltage detection system in order to measure phase voltages. As current sensors the device can be connected to retrofittable Rogowski-sensors type SR55 and also to current transformers with 1 A / 5 A secondary current.
microSD card slot for data logging, firmware updates and commissioning
The fault indicator type SGI also features a microSD card slot. The microSD card can be used to log fault recordings and manually triggered recordings of measuring data. The recordings include 8 analogue channels for current and voltage and several digital channels in Comtrade format. Additionally event data is stored in human-readable text. Furthermore, configuration changes are also written into an event log on the microSD card. All log entries are date-and-time-stamped by a real-time clock.
The microSD card can also be used to copy configuration files from one device to others for better commissioning procedures and for firmware updates.
Integration into SCADA
The indicator provides four fully configurable relay outputs. Fault detections including directional information can be flexibly mapped on any of the four relays. Furthermore, the type SGI features a RS485 interface with a Modbus protocol. The serial interface can be used to read out measurement data and also to fully configure the device.
Order Data
Type SGI
| sensors SR55
16.20.10
Features and Benefits
Directional fault indication:
Short-circuit and earth-fault detection with adjustable phase angle
Monitoring:
Measurement of current, voltage, phase angle, active power, reactive power and apparent power
Current-sensor inputs: 3x type SR55 Rogowski coil sensors
Voltage inputs: LRM interface, interface cables available
OLED display: For indicating up-to-date measuring data and for configuration
Four relays: Four, freely configurable relays: mapping of certain fault types to a specific relay
Reset via current: Reset via recovered network current with adjustable reset current threshold
Power supply:
24V - 265V DC / 48V - 265V AC
with internal long life capacitor USV up to 24h (no battery)
External blinking lamps: Directional and non-directional external blinking lamps are supported
Modbus: Reading and writing of the configuration by Modbus RTU protocol through RS485 interface
Fault records: Data recording in a Comtrade Log on a microSD card (1 second @ 2ksps)
Logging: Logfile for configuration changes and faults with real time clock
Firmware update: Firmware can be updated by microSD card
Password protection: Password protection against non-authorized changes
Multilingual menu: The menu language (English/German) can be selected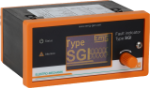 Downloads
| | | |
| --- | --- | --- |
| datasheet_SGI_Rev12e | Size: 537.7 KB | |