Fault indicator
Type MD
The earth-fault and short-circuit indicators type MD can be used in radial networks with one input and open-ring networks. The connections between the short-circuit sensors and accordingly the earth-fault sensor to the display unit are done by cable. All sensors must be mounted on screened cables only. The sensors are divisible and can be retrofitted on the cable.
For the operation of the display device an auxiliary power supply is recommended but not mandatory. An exchangeable lithium battery powers the display in case of missing or failing power supplies.
The indicators of the MD-Series have a liquid crystal display (LCD) and an LED for the indication of faults and for the display of the present network current of each phase. The indicator's very flexible settings can be fully adjusted via the LCD display.
The indicators type MD provide two relays for a separate remote indication of earth-faults and short-circuits. The remote contacts are change-over contacts (NO+NC) for highest flexibility.
The indicators type MD also provide a serial interface. Via Modbus protocol the indicator's status can be read out and all settings of the indicator can be read out and changed. Additionally, the service current of the network can be read out remotely. The serial interface can be configured for low current consumption. Thus, the indicators type MD can be used without external power supply.
The indicators type MD are available in different versions:
– Earth-fault indicator type MD-E
– Short-circuit indicator type MD-K
– Earth-fault and short-circuit indicator type MD-EK
Depending on the version, the earth-fault and short-circuit indicator type MD consists of:
– One display unit for displaying earth-faults and short-circuits
– Three sensors type SK for detecting the short-circuit
– One sensor type SE for detecting the earth-fault
Order Data
Type MD-EK
| sensors SK and SE
15.10.10
Type MD-K
| sensor SK
15.20.10
Type MD-E
| sensor SE
15.30.10
Features and Benefits
Easy and full configurability by LCD
Short-circuit: trip current selectable between 40 A and 1500 A in steps of 10 A
Alternative for short-circuit: Automatic setting of trip current depending on service current
Earth-fault: trip current selectable between 10 A and 300 A in steps of 5 A
Response delay selectable between 40 ms and 300 ms in steps of 20 ms
Liquid crystal display (LCD) and LED indication
Passage of 2nd short-circuit by double blinking
Indication of permanent earth-faults by double blinking
Rotary push button to test the function of the display unit
Remote test contacts
Reset function:
– Manual by rotary push button
– Time: selectable from 1 h min to 12 h in steps of 1 h
– Remote reset contacts
– Reset by recovering auxiliary power supply enabled/disabled
– Reset by recovering service current enabled/disabled
Power supply:
– Lithium battery type AA 3.6V
– 12-110 V DC
– 115/230 V AC
Contacts for remote monitoring
Permanent or wipe contact type can be selected on site
Second relay for separate remote indication of earth-faults and short-circuits
Integration into SCADA via Modbus protocol (RS485 interface)
Panel-mounted housing
Optional: blinking lamp type BL4.1 / BL6 for outdoor indication
Measuring of the service current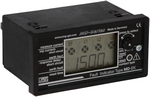 Downloads
| | | |
| --- | --- | --- |
| datasheet_MD_Rev11e | Size: 531.9 KB | |