EARTH-FAULT indicator
Type TERRA-C
The earth-fault indicator type TERRA-C can be used in radial medium voltage networks with one input and open-ring networks. The network has to be solidly earthed or low resistance-earthed. The indication of the earth-fault is done by a flag indicator and an LED.
The sensors are connected to the indication unit by copper cables. The sensors must be mounted on screened cables. Both sensors are divisible and can be retrofitted on the cable.
The device is power supplied by super capacitors. The super capacitors can be charged by a 230V AC power supply which can fail during fault situations and/or a special power supply CT which is mounted onto a single phase. The super capacitors are used to flash an internal LED and optionally also an external blinking lamp. Due to the bistable flag indication an unambiguous indication is guaranteed even if the load of the super capacitors is drained.
The earth-fault indicator type TERRA-C consists of:
– One display unit for displaying the earth-fault
– One sensor type SE for detecting the earth-fault
– Optionally: one power supply CT
Bestelldaten
Artikelnummer
Type TERRA-C
| surface-mounted with power supply CT
26.40.10
Type TERRA
| surface-mounted
26.41.10
Features and Benefits
Five trip currents between 20 A and 240 A
- Optional: One fixed trip current
Four response delays between 40 ms and 300 ms
LED and flag indication
Button to test the function of the display unit
Reset function:
– Manual by push button
– Time: 1 / 2 / 3 / 4 h
– Optional: by recovering operating current
– Optional: by recovering auxiliary power supply
Power supply: super capacitors charged by
– 115 / 230 V AC, can fail during fault situation
– Optional: Power supply CT
Contacts for remote monitoring (change-over + NO)
Permanent or wipe contact type can be selected on-site
Surface-mounted housing
Optional: Blinking unit type BL4.1 or type BL6 for outdoor indication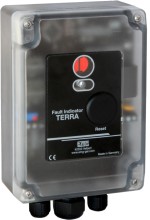 Downloads
| | | |
| --- | --- | --- |
| datasheet_TERRA-C_Rev6e | Size: 651.52 KB | |