Blinking lamp for directional indication
Type BL7
The blinking lamp type BL7 is used to indicate the direction of short-circuits or earth-faults in outdoor areas. Two bright red LEDs and two bright green LEDs show the direction of the fault so that the indication can also be seen from distance. Two imprinted arrows show the corresponding direction of current flow.
The blinking lamp is connected by a two-wire-cable to the display unit for an easy and straightforward installation. The energy for the LED indication is sourced from the display unit.
The housing of the type BL7 is made of solid polycarbonate and the interior is filled with resin for best protection against environmental influences. The lighting angle of the LEDs is 35 degrees.
Order Data
Article no.
Type BL7
| with copper cable
44.70.10
Features and Benefits
Indication of direction of fault currents by colored LEDs
Connection only by two wires required
Maintenance free
energy sourced from display unit
weatherprotection by fully casted interior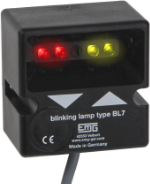 Downloads
| | | |
| --- | --- | --- |
| datasheet_BL7_Rev2e | Size: 207.72 KB | |